A new cabaret devised by Wendy Buonaventura from her book of the same name:
DARK VENUS
Does the Femme Fatale exist? Or is she a myth, a thrilling stereotype, feeding men's fears about female nature? What prompted the idea that women's spines would collapse unless held up by corsets? Or the belief that their agitation for the vote was a chief cause of World War 1?
A cabaret of music and stories looking at centuries of bizarre male ideas about the dangerous nature of women, and women's cheeky response in song.
I PUT A SPELL ON YOU
A one woman show, exploring themes from book of the same name
A rare fusion of thought-provoking art and inspiring fact…It is immensely provocative on all levels, testifying to the fact that Buonaventura still possesses her own brand of spellbinding power. – Duska Radosavljevic, The Stage, Aug 13th 2004
A wonderfully witty hour…Buonaventura has assembled some marvellously silly quotes about the dangers of dance and skilfully deploys them… I liked it so much I bought the book. – Scotsgay, Aug 2004
"Wendy Buonaventura is quite literally a living legend in Arabic dance, and has taken the art form to audiences worldwide with her innovative and beautiful stage shows" Morag Deyes (Artistic Director, Edinburgh Dancebase)
MIMI LA SARDINE: Tales of a performer's life
A celebration of the beauty of hips, valuing the experience that comes with maturity as well as the energy of youth. Elements of Persian, Egyptian and Moorish dance are explored with humour and poise, while the machismo of Arab men is gloriously sent up in a cross-dressed gangster number…This is a pulsating celebration of movement…a haven of peaceful beauty that deserves to be savoured. – Don Morris, The Scotsman Aug 24th 1999
Buonaventura's dancing is marvellous…her body seems to ripple like water, and her narratives are striking and precise. – Dancing Times
The show catches a real sense of joie de body. – Edinburgh List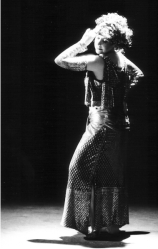 DANCING GIRLS
The Orientalist experience of women and dance in the Arab world.
Clever and enchanting…an accessible and intelligent piece of theatre that deserves a wider audience. – Anne Sacks, London Evening Standard, Sept 12th 1995
Buonaventura juxtaposes the readings, presented in voiceover, with great wit and skill, and charts the history of Arab dance without letting us lose sight of its beauty. This artful synthesis of instruction and delight cries out to be made into a documentary, though the camera would be hard put to capture the charm and spontaneity of live performance. – Louise Levene, The Independent, Jan 10th 1996
The tone varies enormously, from outright bawdiness at one extreme to delicate fantasy at the other, taking in humour, drama and even anger along the way… Strongly recommended. – John Percival, The Times, Aug 20th 1994.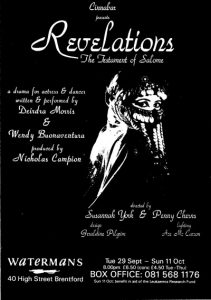 REVELATIONS: The Testament of Salome
Intriguing and compelling… a highly disciplined, marvellously atmospheric production. – The Guardian
Rich in ideas, fresh in vision, a rare and intimate treat. – Edinburgh List